The New Year is upon us, and with it come grandiose dreams of bettering our selves by setting resolutions.
I set goals every year, myself - some I keep, while others sadly fall by the way side sometime in mid-February. Yet others, I find myself setting part way through the year when I realize that there is something I need to commit to.
One of the things I had been planning, resolution or not, was to take the month of January and try and get some deep cleaning done and clearing out of clutter that plagues our home. In fact, I had gone through the task of writing up a chore-list of sorts, with a different job to do each day. In fact, I had even been contemplating posting that list here for my 'oh-so-many' readers and those who might just happen-chance upon it while searching for their own 30-days to a Clean House list.
Well, it's not necessary right now. Okay, change that... I may still use it, by rearranging the planning, as website, "
I'm An Organizing Junkie
," is hosting a month-long "
New Year's Organizing Revolutio
n," complete with blog hops, posting parties and, best yet, PRIZES!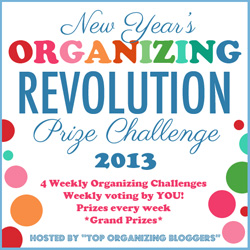 According to the Organizing Junkie website:
"
Each Monday, starting December 31st, we will announce the room or area and give you ALL WEEK to work on that space - even if it's just a drawer in that area or the WHOLE room (it's totally up to you). Then, YOU take pictures - nice ones with your cell phone or camera. You post them on your blog or on your Pinterest board and we are going to have a HUGE Link Party and everyone will VOTE on whose they like the best. So YOU can win!!"
Want to participate? For full details, visit the
"I'm an Organizing Junkie" blog
!